Ship-Hop drops in 2018 and we're going to add some old skool beats to your ultimate vacation break! Featuring over a dozen of the most iconic names in 90s Hip-Hop and R&B, the boat will shoop ba-doop with live performances of hit jamz all week long!
Setting sail January 11-15, 2018, from Miami to Key West & Cozumel, we'll christen the Carnival Sensation with everything you love about the trend-setting decade of the 90's, transforming your wack daily life into a gangsta's paradise and VIP-worthy Caribbean holiday!
You'll re-live your favorite party mix-tape hits live and in-person over 4-days on the sun drenched deck of a luxurious ship that will make you exclaim "OMG Becky, look at that boat!"  Boasting a world-class spa, casino, 24-hour dining, and bars stocked full of cold medina, the Sensation has all the amenities you'll need to stay pampered and pumped to dance all week long!
If that's not enough to give you the vapors, you'll also have the opportunity to mingle on-board with the artists and DJs during a number of interactive events and activities, photo meet and greets, theme nights, and more! No diggity no doubt!

KEY WEST, FLORIDA
Friday, January 12th
Key West is  packed with coastal-town energy and layers of American history just waiting to be discovered. Enjoy a laid back Caribbean vibe with a dash of the high life. The southernmost island of the Florida Keys, Key West is a sunny, fun-loving place with plenty of charm. Palm-shaded streets lined with gaily-painted bungalows, vintage saloons and blooming tropical flowers await. Whether life's a beach or you're life of the party, Key West will definitely deliver.

COZUMEL, MEXICO
Saturday, January 13th
Cozumel offers a huge variety of things to do, see, taste and explore. This island just happens to be perched atop a coral reef, which promises hours of snorkeling or scuba diving fun. Drift among star corals and sea fans on a Cozumel diving excursion or simply kick back on the beach beneath your own palm palapa as the turquoise waves roll in. With non-stop zip line action, ancient discoveries at the nearby Mayan ruins, or time spent with your toes in the sand, a day in Cozumel is a great vacation.
Cruise Itinerary
(swipe/scroll to view additional days)
January 11, 2018

January 12, 2018

January 13, 2018

January 14, 2018

January 15, 2018
Depart Miami

4:00pm (Appx)

Key West, Florida

7:30am ~ 1:30pm

Cozumel, Mexico

12:00p ~ 10:00pm

Bumpin' At Sea!

Return to Miami

8:00am (Appx)
When scheduling your flights, we recommend that you plan to arrive in Miami no later than 12pm-ET on January 11th (Fort Lauderdale no later 11am-ET), and depart on January 15th no earlier than 12pm-ET (For Lauderdale, after 1pm ET), and remember to allow additional time for customs clearance for international flights.
Welcome Aboard…
Please join us in welcoming aboard the lovely and amazing Downtown Julie Brown of SiriusXM 90s on 9 […]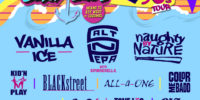 Ship-Hop 2018 Artist Lineup
Daaamn Gina! The inaugural Ship-Hop lineup is packed and stacked and in full effect! Checkity-check out […]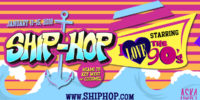 Welcome aboard Ship-Hop.com! Spend a few minutes cruising through all of the pages on the site to learn all the info […]